Russians have taken a lot of territory through creeping occupation." The shrinking Georgian village of Khurvaleti | #AJLongReads ⤵️.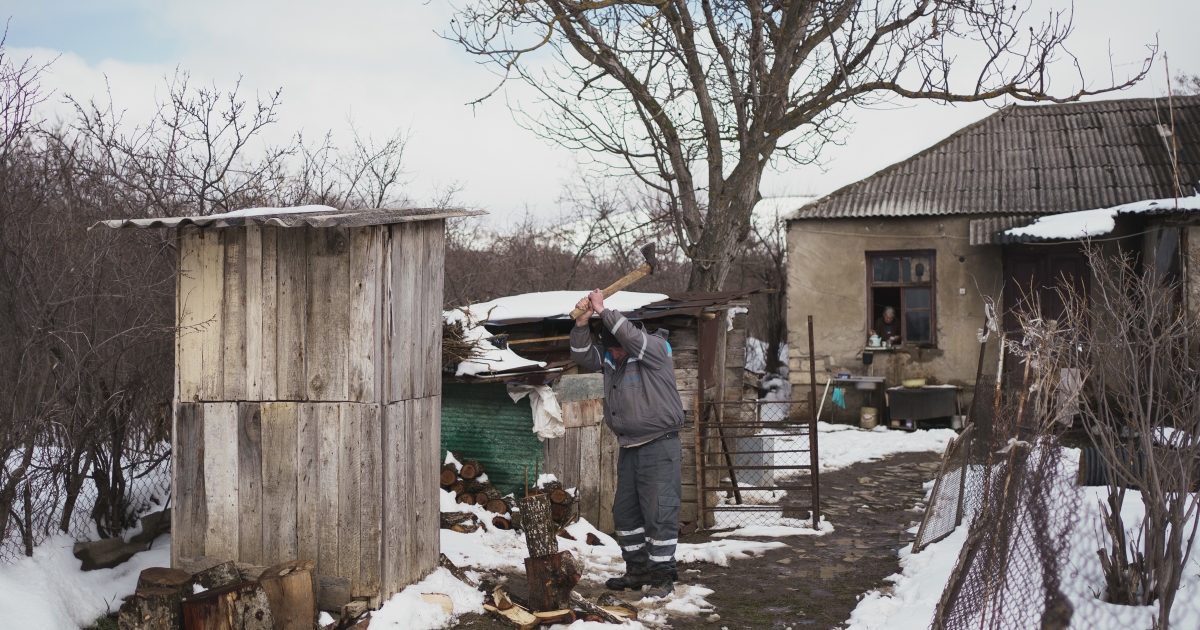 Khurvaleti, Georgia – When Gia Batonisashvili hears dogs barking, he knows "Russians are patrolling". The troops patrol with their dog in what used to be his back garden. He lost this garden three years ago when Russian forces put up a barbed-wire fence behind his home. He can no longer access these grounds for fear of being arrested and accused of trespassing in another state.
Gia, 63, and his mother Nora, 81, live in a decaying house at the end of the only asphalt road that crosses Khurvaleti, a village almost surrounded by the Moscow-backed breakaway state of South Ossetia which borders Russia. Roughly 4km (2 miles) long and 2km (1 mile) wide, Khurvaleti juts into South Ossetia like a small peninsula.
It is located in a valley about 60km (37 miles) northwest of the Georgian capital, Tbilisi, and lies just a few kilometres from a major highway that connects the country's east and west, and from the gas pipeline linking Azerbaijan to the Black Sea.
Khurvaleti, like many rural Georgian communities, consists of several clusters of owner-built houses surrounded by fields and orchards. The homes have large balconies to enjoy the summer months and the view of the hills and mountains where Russian soldiers patrol. Its population of around 160 families is mostly involved in agricultural activities with some artisans and teachers working at the local school.
"We have no means to repair the roof that is constantly leaking. With the pension we just buy medications and we also have to purchase food since we lost access to most of our agricultural land and a large orchard. We only have this small plot in front of our house left to grow vegetables," says the former stonecutter, with both resentment and resignation.
On one side of their house looms a Russian observation tower covered with green camouflage. On the other, the narrow path leading to the house of their Ossetian neighbour is also closed off by a barbed-wire fence and a green banner warning that trespassing the "state border" is forbidden.
In Khurvaleti, Gia and Nora are hardly an exception. The village territory continues to be fenced off by Russian forces following the 2008 five-day war with Russia.
"Since 2008, we no longer have access to the cemetery or pasture lands, and many inhabitants have also lost part of their agricultural land," says Badri Adikashvili, the representative of the Gori municipality for Khurvaleti and the surrounding villages.
According to figures published by the ombudsman of Georgia, Khurvaleti lost 36 hectares of agricultural land and pasture – roughly the size of 50 football pitches – due to Russian border guards carrying out a process known as "borderisation" to demarcate South Ossetia's "state borders".
At the end of August 2008, after Russia's invasion of Georgia and a war that killed some 850 people, Moscow unilaterally recognised the independence of Abkhazia and South Ossetia, two separatist entities located respectively in the western and central parts of the country that broke away from the newly independent Republic of Georgia in the early 1990s following violent conflicts.
The following year, South Ossetia and Abkhazia outsourced the protection of their "state borders" to Russia. Since then, several thousand soldiers and Russian Federal Security Service border guards have been stationed in a cluster of more than 30 military bases and outposts. Two of them are just a few kilometres from Khurvaleti.
The "state borders" are based on old maps of Soviet Georgia depicting the administrative boundaries of the autonomous provinces of Abkhazia and South Ossetia.
I have tried to give all kinds of news to all of you latest Twitter Trends news today 2022 through this website and you are going to like all this news very much because all the news we always give in this news is always there. It is on trending topic and whatever the latest news was
it was always our effort to reach you that you keep getting the Electricity News, Degree News, Donate News, Bitcoin News, Trading News, Transfer News, Gaming News, Trending News, Digital Marketing, Telecom News, Beauty News, Banking News, Travel News, Health News, Claim News latest news and you always keep getting the information of news through us for free and also tell you people. Give that whatever information related to other types of news will be
made available to all of you so that you are always connected with the news, stay ahead in the matter and keep getting today news all types of news for free till today so that you can get the news by getting it. Always take two steps forward
All this news that I have made and shared for you people, you will like it very much and in it we keep bringing topics for you people like every time so that you keep getting news information like trending topics and you It is our goal to be able to get
all kinds of news without going through us so that we can reach you the latest and best news for free so that you can move ahead further by getting the information of that news together with you. Later on, we will continue
to give information about more today world news update types of latest news through posts on our website so that you always keep moving forward in that news and whatever kind of information will be there, it will definitely be conveyed to you people.
All this news that I have brought up to you or will be the most different and best news that you people are not going to get anywhere, along with the information Trending News, Breaking News, Health News, Science News, Sports News, Entertainment News, Technology News, Business News, World News of this news, you can get other types of news along with your country and city. You will be able to get information related to, as well as you will be able to get information about what is going on around you through us for free
so that you can make yourself a knowledgeable by getting complete information about your country and state and information about news. Whatever is being given through us, I have tried to bring it to you through other websites, which you may like
very much and if you like all this news, then definitely around you. Along with the people of India, keep sharing such news necessary to your loved ones, let all the news influence them and they can move forward two steps further.