"flying Ginsu." EXPLAINER: A look at the missile that killed al-Qaida leader (from @AP).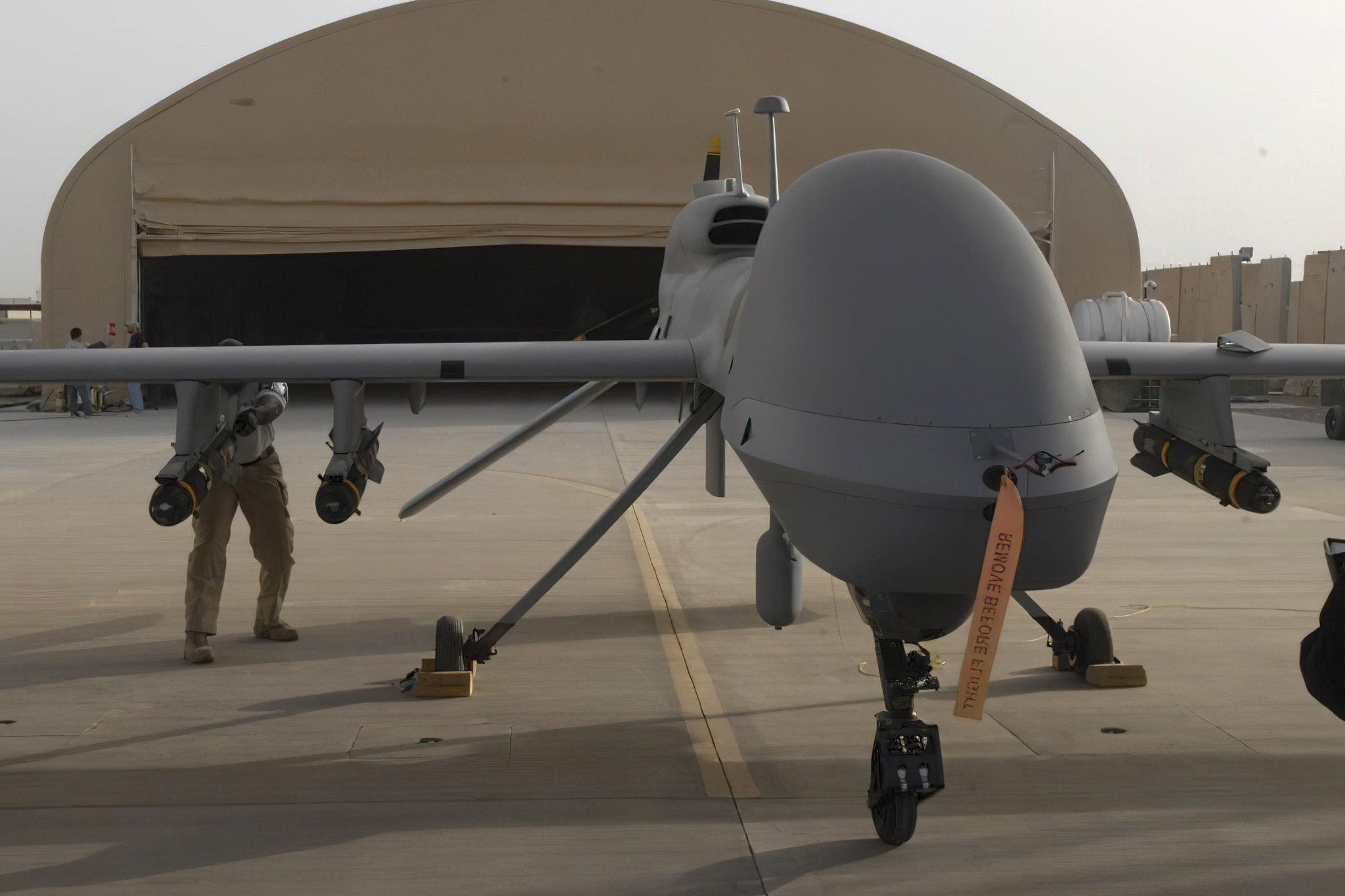 WASHINGTON (AP) — For a year, U.S. officials have been saying that taking out a terrorist threat in Afghanistan with no American troops on the ground would be difficult but not impossible. Last weekend, the U.S. did just that — killing al-Qaida leader Ayman al-Zawahri with a CIA drone strike.
Other high-profile airstrikes in the past had inadvertently killed innocent civilians. In this case, the U.S. carefully chose to use a type of Hellfire missile that greatly minimized the chance of other casualties. Although U.S. officials have not publicly confirmed which variant of the Hellfire was used, experts and others familiar with counterterrorism operations said a likely option was the highly secretive Hellfire R9X — know by various nicknames, including the "knife bomb" or the "flying Ginsu."
That potential use of the R9X, said Klon Kitchen, senior fellow at the American Enterprise Institute and a former intelligence analyst, suggests the U.S. wanted to kill al-Zawahri with "limited likelihood of collateral death and destruction and for other relevant political reasons."
Originally designed as an anti-tank missile in the 1980s, the Hellfire has been used by military and intelligence agencies over the last two decades to strike targets in Iraq, Afghanistan, Yemen and elsewhere.
The precision-guided missiles can be mounted on helicopters and unmanned drones and are used widely in combat around the world. More than 100,000 Hellfire missiles have been sold to the U.S. and other countries, according to Ryan Brobst, an analyst at the Foundation for the Defense of Democracies, a Washington think tank.
"It can do enough damage to destroy most targets such as vehicles and buildings while not doing enough damage to level city blocks and cause significant civilian casualties," Brobst said.
The U.S. military has routinely used Hellfire missiles to kill high-value targets, including a senior al-Qaida leader in Syria last year, and al-Qaida propagandist Anwar al-Awlaki in Yemen in 2011.
The U.S. had multiple options for the attack. It could have used a traditional Hellfire, a bomb dropped from an manned aircraft, or a far more risky assault by ground forces. U.S. Navy SEALs, for example, flew into Pakistan on helicopters and took out Osama bin Laden in a raid.
In this case, the CIA opted for a drone strike. And while the CIA generally doesn't confirm its counterterrorism missions and closely guards information about strikes it conducts, U.S. government officials have said that two Hellfire missiles were fired at the balcony of the building where al-Zawahri was living in Kabul.
Online images of the building show damage to the balcony, where the U.S. says al-Zawahri was, but the rest of the house is standing and not badly damaged.
Unlike other models of the Hellfire, the R9X doesn't carry an explosive payload. Instead, it has a series of six rotating blades that emerge on its final approach to a target, Kitchen said. "One of their utilities is in opening up vehicles and other obstructions to get to the target without having to use an explosive warhead," he said.
I have tried to give all kinds of news to all of you latest Twitter Trends news today 2022 through this website and you are going to like all this news very much because all the news we always give in this news is always there. It is on trending topic and whatever the latest news was
it was always our effort to reach you that you keep getting the Electricity News, Degree News, Donate News, Bitcoin News, Trading News, Transfer News, Gaming News, Trending News, Digital Marketing, Telecom News, Beauty News, Banking News, Travel News, Health News, Claim News latest news and you always keep getting the information of news through us for free and also tell you people. Give that whatever information related to other types of news will be
made available to all of you so that you are always connected with the news, stay ahead in the matter and keep getting today news all types of news for free till today so that you can get the news by getting it. Always take two steps forward
All this news that I have made and shared for you people, you will like it very much and in it we keep bringing topics for you people like every time so that you keep getting news information like trending topics and you It is our goal to be able to get
all kinds of news without going through us so that we can reach you the latest and best news for free so that you can move ahead further by getting the information of that news together with you. Later on, we will continue
to give information about more today world news update types of latest news through posts on our website so that you always keep moving forward in that news and whatever kind of information will be there, it will definitely be conveyed to you people.
All this news that I have brought up to you or will be the most different and best news that you people are not going to get anywhere, along with the information Trending News, Breaking News, Health News, Science News, Sports News, Entertainment News, Technology News, Business News, World News of this news, you can get other types of news along with your country and city. You will be able to get information related to, as well as you will be able to get information about what is going on around you through us for free
so that you can make yourself a knowledgeable by getting complete information about your country and state and information about news. Whatever is being given through us, I have tried to bring it to you through other websites, which you may like
very much and if you like all this news, then definitely around you. Along with the people of India, keep sharing such news necessary to your loved ones, let all the news influence them and they can move forward two steps further.