500 injured, at least 4 dead after bullfighting stadium collapse in Colombia.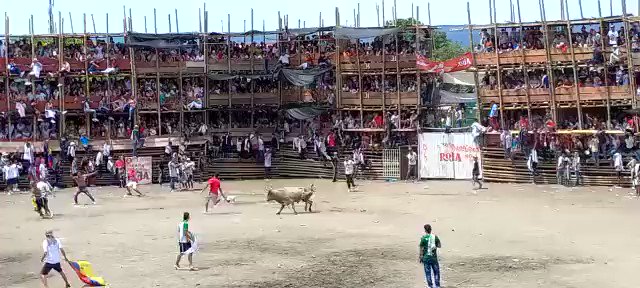 A fiesta brava ended in disaster in Colombia on Sunday after a rudimentary stadium partially collapsed in the middle of a bullfight, sending hundreds of people tumbling to the ground. At least four deaths were initially announced by authorities, with subsequent reports of the number of injured varying wildly, ranging between dozens and hundreds.
The three-tiered stadium's sudden collapse was captured both live on local television and by attendees, who rushed to circulate clips on social media. Footage appears to show people, including several matadors, screaming and scrambling to safety as the rickety stands keel over, throwing some spectators violently to the ground, and crushing others beneath wooden slats.
Local authorities in El Espinal, a city that lies southwest of Colombia's capital city, have not released an exact figure for those wounded or killed. As many as 500 were immediately feared hurt, according to the country's largest newspaper, but the figure was later revised down by some outlets to as low as 30.
Ricardo Orozco, Tolima's governor, told local radio in the immediate aftermath of the incident that at least one child had been counted among those dead, according to Colombian outlet Red+ Noticias.
A local councillor told El Tiempo that first responders and medical facilities had been overwhelmed by the accident. "We need support from ambulances and neighboring hospitals, many people are still unattended," the newspaper quoted him as saying.
At least one bull also escaped the stadium in the ensuing chaos, sending local residents diving for cover as it charged down city streets. It was not immediately clear whether officials were able to recapture the animal.
The bullfight had apparently been arranged as a traditional corraleja event, part of the festivities of a busy holiday season, with Colombians observing the feast days of St. John the Baptist, St. Peter, and St. Paul, having just celebrated Sacred Heart.
Tolima's director of civil defense told local media that several people had been wounded, with at least one man left in critical condition, by the stadium's bulls after jumping into the corral. It was unclear whether those injuries had occurred before or after the collapse, as spectators are traditionally encouraged to engage the bulls directly during a corraleja.
The president-elect of Colombia, Gustavo Petro, tweeted out a response to the accident, saying he wished those affected a swift recovery. Referencing an infamous and similar incident in Sincelejo in 1980, which left more than 220 dead and 500 wounded, Petro implored local government officials not to authorize further bull festivals.
Stadium collapses in rural parts of Colombia are rare but not unheard of. In 2008, at least 80 people were injured after an overcrowded stadium collapsed during a bullfight in Planadas. An injured spectator told local media that organizers had deliberately packed the venue past capacity that day, according to a Mirror report at the time.
I have tried to give all kinds of news to all of you latest Twitter Trends news today 2022 through this website and you are going to like all this news very much because all the news we always give in this news is always there. It is on trending topic and whatever the latest news was
it was always our effort to reach you that you keep getting the Electricity News, Degree News, Donate News, Bitcoin News, Trading News, Transfer News, Gaming News, Trending News, Digital Marketing, Telecom News, Beauty News, Banking News, Travel News, Health News, Claim News latest news and you always keep getting the information of news through us for free and also tell you people. Give that whatever information related to other types of news will be
made available to all of you so that you are always connected with the news, stay ahead in the matter and keep getting today news all types of news for free till today so that you can get the news by getting it. Always take two steps forward
All this news that I have made and shared for you people, you will like it very much and in it we keep bringing topics for you people like every time so that you keep getting news information like trending topics and you It is our goal to be able to get
all kinds of news without going through us so that we can reach you the latest and best news for free so that you can move ahead further by getting the information of that news together with you. Later on, we will continue
to give information about more today world news update types of latest news through posts on our website so that you always keep moving forward in that news and whatever kind of information will be there, it will definitely be conveyed to you people.
All this news that I have brought up to you or will be the most different and best news that you people are not going to get anywhere, along with the information Trending News, Breaking News, Health News, Science News, Sports News, Entertainment News, Technology News, Business News, World News of this news, you can get other types of news along with your country and city. You will be able to get information related to, as well as you will be able to get information about what is going on around you through us for free
so that you can make yourself a knowledgeable by getting complete information about your country and state and information about news. Whatever is being given through us, I have tried to bring it to you through other websites, which you may like
very much and if you like all this news, then definitely around you. Along with the people of India, keep sharing such news necessary to your loved ones, let all the news influence them and they can move forward two steps further.